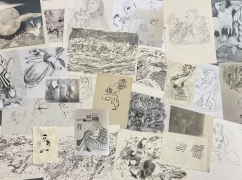 Six week evening course
Wednesday 5 January to Wednesday
9 February 2022
Click here to book on Eventbrite.
'The Surprise of Drawing' is a six week drawing course centred on the principle that everyone can draw. These experimental sessions will give the chance to those with little or no experience to explore drawing, and for those with experience to explore different ways of approaching it. It will be a chance to make work that looks both out into the world and inside ourselves for inspiration, and hopefully inspire students to carry on drawing with confidence after the course has finished.
Each session will combine short and dynamic exercises to help participants warm up and enter a more unselfconscious state in which they are less inhibited by ideas of getting things right or wrong. From here the emphasis will shift between observing from life and from our imagination and impulses, helping everyone uncover and follow their own ideas and curiosities. The sessions will be playful yet structured, encouraging participants to experiment with the ways they see, translate and create.